| | |
| --- | --- |
| | |
Fishing Report: November 9, 2007

Inshore:

Hooray for sunny weather! After what seems like an eternity, the sun came out and the winds died off to let local anglers venture out on the Indian River for some much needed fishing and boating. Offshore still hangs tough for most boaters and many enjoyed the river starting on Sunday. Oh, there is still a breeze out there, but very fishable conditions. Water quality is still down, but the fish have to eat and they did that most days for us this week.





Dale caught this 34" gag grouper around the Fort Pierce docks....

Snook turned out to be our target even though the slots avoided the hook. Dale Oosting, Alan Miller and Kathleen Hall all caught some nice snook from around the bridges and docks this week. Live bait worked best for us. The outgoing tides favored the most bites, though incoming kept us busy as well. Lots of different species are hanging around the docks and bridges and we caught our share of them. The better snook bite has continued to be at night around the inlet. Live mullet or shrimp has been the first choice of bait along with feather jigs and bomber lures.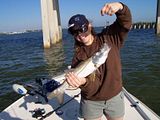 Kathleen Hall with her first snook.....

We found trout hitting early on live bait. Most were up to 22" and hungry. Alan caught all of his around the bridges. Also try deeper water with a popping cork and live shrimp. Try to find some clean water for the best opportunity. Later in the day, Alan, from Scotland, pulled a nice redfish from under the docks to finish off his inshore slam. A reminder that trout season is closed November and December, so catch and release is in effect now. Handle your fish carefully and release them unharmed.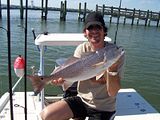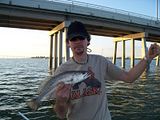 Alan with a trout and redfish this week....

Speaking of dock fishing, Dale was down from Michigan and finally caught one of those fish that continually break you off around the docks. He topped off the day with a 34" Gag grouper that he horsed away from the structure with quite a lot of effort. Alan and Kathleen had a lot of fun catching a wide variety of fish around the docks. The catwalks have been yielding some sand perch and lots of anglers are also fishing around the seawalls around the library in Fort Pierce for them. The black drum have also filtered into the inlet and are holding the same areas. Live or frozen shrimp have worked best.

Surf:

Wind has left the beaches pretty dirty for now. Those anglers who are fishing the surf have found some whiting and pompano scattered along the Treasure Coast. Shrimp or sand fleas has been the best bait for now. Watch for bait schools that run along the beach and fish live mullet or cast a top water for a chance at snook, jacks or maybe a tarpon. I heard of a few pompano north of Fort Pierce, but it can change quickly. We should start seeing some Spanish mackerel soon.

Tip of the Week:

It's hard enough to remember fish, limits, slots, etc....etc... It is important to be able to identify the fish you catch and have some way to measure and know the sizes and limits if you plan on keeping any fish. One of the hardest for many anglers to identify is the difference between lane and mutton snappers. There are distinct differences in each, but still hard for many to distinguish. The legal size for each is enough to make it important to know your fish. Lane snapper has an 8 inch minimum, while mutton snapper must be at least 16 inches. Stop by your local tackle shop and check out some pictures of them so you can correctly identify your fish.

As always, remember, fishing is not just another hobby....it's an ADVENTURE!!

Good Fishing and Be Safe,
Captain Charlie Conner
www.fishtalescharter.com

email: captaincharlie@fishtalescharter.com

772-284-3852